Aircraft Hangars


We have teamed up with HangarsUSA to provide turnkey Design/Build services for Aircraft Hangars. Our team has the expertise and capabilities to design, construct, and manage Aircraft Hangar projects virtually anywhere in the world.
Tell us your needs and receive a preliminary hangar design, including elevation, floorplan and project cost estimate. Contact us and mention the free design offer to claim your preliminary aircraft hangar design, a $500 value, with no obligation.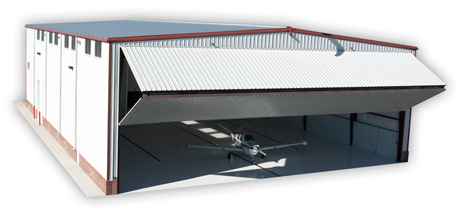 Our Highest Priority is to provide a service that promotes our clients operational profits.
Preliminary Services Contract
Complete design/engineering plans with detailed project costs
endvrcorp/HangarsUSA can provide all the preliminary planning and design/engineering work for your hangar project. Plans include detailed project cost estimates. Use these plans to bid out your project. Or let us build your hangar for you and we'll credit the Preliminary Services Contract fee to the total project cost
Turnkey Construction Services
From airport lease negotiation to finished aviation facility.
endvrcorp/HangarsUSA can manage your hangar construction project from A-Z. You'll save by using our extensive aviation facility construction experience. From Boeing 757s to Beechcraft Bonanzas. In the U.S. or Mongolia. From leasing land to on-site supervision. Let us bid your next project.
Aviation Construction Management
Expert guidance and supervision of your hangar project.
endvrcorp/HangarsUSA provides consulting services to oversee your hangar project. We can help you negotiate favorable airport lease terms. Help you select qualified contractors to build your hangar. Supervise on-site construction work. Ensure compliance with state and federal regulations. Put our expertise to work for you.
Our objective is to gain clients for life.
We strive to earn our clients trust and to eliminate any need for our clients to ever employ another contractor.
Let endvrcorp/HangarsUSA be the solution to your aircraft hangar objectives.